Businesses around the world have realized the immense potential of Cross Platform Mobile App Development and the competitive advantage it offer to businesses. Hence, targeting mobile app development platforms has become an important part of digital marketing strategy for the companies these days. Ease of technology accessibility has already seen 50% of the traffic coming to websites from mobile platforms, and this number is expected to rise as the accessibility from developing nations will increase further in future. Progressive Web Apps is expected to play a big role in this advancement.
One of the most important USP of Progressive Web Applications (PWA) is its cost-efficiency is app development. Considering the feature richness and affordability of this technology, it is has become a go to choice for many startups, small and medium scale businesses.
Progressive Web Apps allows you to design and develop responsive mobile app website in the similar fashion as that of a native app. Since the websites designed are responsive, it automatically adjusts itself as per the different devices, platforms and tablets resolution.
Lately, businesses have experienced humungous growth using PWA, and below are some stats that provides the advantage of PWA's:
PWAs have helped in increasing the user engagement by 137%.
PWA has reduced the device storage required by 25 times.
Around 40% increase in bounce retention rate.
Some important functionality which is helping PWA's to be the preferred choice are:
Offline Mode For Better Accessibility
With enhanced and secure caching process, the offline requests are designed to handle in a way that it doesn't lead to impact the business productivity due to loss of connectivity. Hence, you user will not have problem in accessing the website due to lack of data.
Another state-of-the-art feature of PWA is device level caching. With device-level caching, the content is loaded very quickly however, the remaining content loads progressively but immediately. Thus the experience offered on Mobile App Development is same as Web Application Development.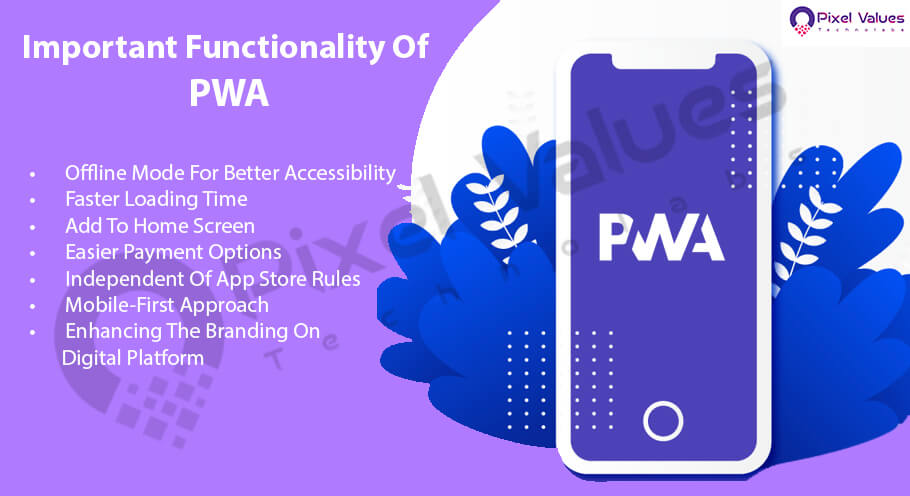 As mentioned above, PWA provide the native apps like experience, similarly, user can have a native-like experience on the home screen with the Add to Home Screen feature. Mobile App Developer can customize the home screen as per the user experience, thus providing them a personalize experience.
Security remains heart of any application/platform, and PWA hasn't compromised on this aspect as well. PWA has ensure a smooth, quick, straightforward and highly secured checkout experience to the users to complete their buying experience.
Some of the very famous apps developed on PWA are Twitter, Forbes, AliExpress, Pinterest, Tinder, Starbucks Coffee PWA, OLA, Flipkart.
How PWA Can Help In Solving Modern Day Business's Needs?
Independent Of App Store Rules:
PWA apps need not to come from app store or the play store. Apps can be directly downloaded from the websites or other social media pages. The app always remains updated and the user can save the app on the home screen of their mobile, thus, increasing the chances of usability.
PWA's empower the App Development Companies with the mobile first approach and thus increase the customer base. It is expected that mobile apps download will increase by 45% till 2022. The success of Pinterest, Twitter, Tinder, and Starbucks coffee PWA are prime examples of a well designed and developed Progressive app on your business.
Enhancing The Branding On Digital Platform:
With the amazingly enhanced organic search ratio of Progressive Apps, it helps in taking the online presence of your business to a whole new level. Increasing digital presence helps in getting new leads for the business. Furthermore, it also smoothens the sales and marketing department to have a direct approach while going about their business.
CONCLUSION:
Undoubtedly PWA's are going to be the next big thing considering the advantages it provides to all sizes of organization across multiple domains. In this fierce competition, Progressive Apps help in the extra mile reach to the potential customers thus helping the business to grow and stay ahead of the competition by Developing A Successful Mobile App and long term customer loyalty.
Author Bio:
Nimish Gupta is the Director (PMO) at Pixel Values Technolabs, a top-rated Mobile App Development Company in India. Nimish has over 13 years of experience in the Information Technology & Telecommunication industry. He has done lots of projects for the Government of India. He is very determined to ensure that solutions presented to the clients adopt the right technology and are scalable to adapt to new platform requirements of the ever-growing Information Technology industry.
Contact Information:
Call us at 0712-6611379 OR 9822367795
Skype: Pixel_values
Website: www.pixelvalues.com